REbuilds and Pricing | Getting the details upfront and right
When we do a rebuild, the key focus is always going to be on making sure we identify the reason(s) your engine failed (or is failing). In our most recent RX8 build,, Our ultrasonic cleaner was able to prove that the OMP lines were caked and unable to provide oil to the rotor chambers, thus leading to a housing / apex seal failure as indicated by the scoring on the rotor housings and the heat marks on the rotor bearings.
Apex seals got hot, lack of lubrication from OMP / line failure
Now, every engine gets the following replaced on our rebuilds:
Oil control rings, seals, springs (viton seals)
Side seals, springs
Corner seals, springs
Apex seals, springs
dowel pin o-rings
Inner/outer coolant seals
front / rear OEM main seals
Stationary gear o-ring
Tension bolts are inspected / replaced if stretched
Injector diffusers
Oil pump / chain (if out of spec / oil failure) Any stretch in the chain and we replace both
Every component plays an important role, skip one part that is worn out and failure will find you again.
Because we buy the Mazda master gasket set for all rotary REbuilds, we use every o-ring, seal, gasket within that set. Why take shortcuts?
Checking all components carefully with the right measuring equipment is mandatory on a teardown / REbuild. Our The Omegasonic pro series ultrasonic cleaner ensures that your engine is thoroughly cleaned and prepared for optimal performance when reassembled.
This also includes radiator / oil cooler inspection with ultrasonic cleaning. The amount of debris left behind from miles of driving up to engine failure can enough to cause an early failure of your new rebuild motor. Get it cleaned properly, you won't regret it.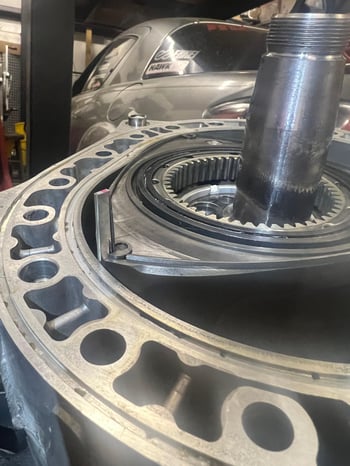 Precision is crucial when it comes to the Mazda Rotary engine. Although it may appear simple, the building process should never be rushed or compromised due to budget limitations.
Pricing of what it takes to get your Rotary Engine running properly:
All rebuilds start at $3500
Our pricing will always be based on what your engine needs.
Most need new rotor housings and all need new seals, springs, 0-rings.
That costs more money, No shortcuts.
If you need lapping and re-nitriding of your side housings, the cost of new isn't that much more and you don't have to worry about end play troubles.
If you are searching for the most affordable option for your rebuild, be cautious of "great deals" on rebuilt motors. We do not need to compete on price; our success is built on delivering top-notch results with high-quality parts and skilled labor. We thoroughly assess the leading suppliers of rebuild parts:
Mazdatrix.com, Atkinsrotary.com, and Racingbeat.com.
These three sources offer exceptional products and pricing, and have earned a stellar reputation for rotary engine performance. We maintain competitiveness with them as they have a long-standing presence in the industry, and I have personally met many of these individuals at racing events and other gatherings. Quality is of utmost importance.
For example, if you have an FD motor and want a rebuild, can you stay within $6000 for it? Yes, however if you need additional parts, it is going to cost more money. Be prepared to have that discussion. There is no reason to replace parts inside your motor unless they are worn out, out of spec. We take a lot of pictures along the way and share them with you. If you want to buy a factory replacement block, just ask (if it is available).
Also, we offer up porting services. This once again is all dependent on how / where you are going to drive it. Here in Colorado, going with a huge street port is going to be more of a headache than a mild street port (High altitude impacts air density, flow is going to be negatively impacted). One size does not fit all applications.
That is why it is important to have the discussion before, during and after about what is going to work best for your application.
Yes, we do sell Optima batteries and they work well. They can handle serious abuse and I have several that are still in service after 7 years. For weight reduction, we have seen our Braille Batteries stand up well at reduce weight by 34 lbs. Do not use OEM batteries with filler caps, only a sealed battery built for performance duty is going to work well.
You get what you pay for, go for cheap and expect it to last. Well, we don't work that way. Quality matters.
We utilize our inhouse 50 gallon ultrasonic cleaner on just about every component so we can properly inspect, measure and make sure it is going to work when we put your motor back together. Combine that with our state of the art scan tools and we can get your car back running well instead of chasing issues. One of the additional positives is that we use the ultrasonic cleaning for all connectors, the process removes dirt and oil without damaging the connectors, pins and gaskets. This keeps connections clean, functional and improves longevity.
Get the performance and build quality from your Rotary Engine REbuild.